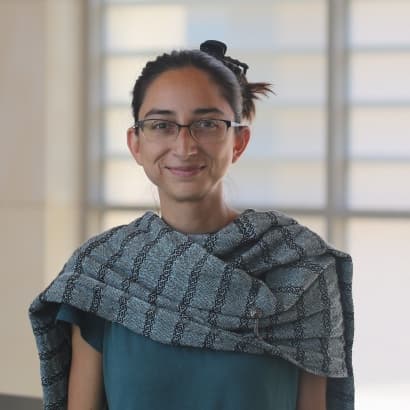 Hi, I'm Jolene, a Mexican-American Scientist and Teacher
I grew up in rural northern California as Jolene Rodriguez. In the summer before my last year of high school we moved to Colorado. When I entered college just over the mountain, my mentors in the library and in my biology classes encouraged me to try lab research. Dr. Peter Gauss guided me in a fascinating genetics project studying phage, the viruses of bacteria. His encouragement in many Friday afternoon talks convinced me to do a Research Experience for Undergraduates funded by the National Science Foundation. I spent a summer at Indiana University screening for adhesion-defective stalked bacteria in Dr. Yves Brun's lab under Dr. Pam Brown. There, I saw that science was full of people and an invigorating powerhouse of activity.

Not ready to commit to graduate school after college, I joined Dr. Rui Zhao where I did a lot of protein purification to explore the biochemistry and structure of the molecular machines responsible for RNA splicing in yeast. This formative experience solidified my desire to pursue further training and gain intellectual independence.
I returned to Indiana University for my graduate work with Dr. Suchetana (Tuli) Mukhopadhyay, I studied the mechanisms of assembly and exit in Sindbis virus, an enveloped virus that cycles in nature through mosquito and vertebrate hosts, such as birds or mammals. My project focused on the intracellular trafficking of two small viral membrane proteins with a distinct posttranslational modification status, and their involvement in viral budding from the host plasma membrane. As a budding scientist, I grew professionally and in community with our local chapter of the Society for the Advancement of Chicano/Latinos and Native Americans in Science.

As a postdoctoral researcher, I returned to my first science love: phage. In Dr. Ryland Young's lab I directed molecular projects on the mechanisms phage use to lyse and escape their infected host cells. Additionally, as a member of the Center for Phage Technology, I worked with teams of scientists and trainees at all levels on phage discovery in the classroom and developing a suite of bioinformatics tools for phage genome analysis and community annotation. I also taught a course with Dr. Jim Hu, on critical analysis of the literature and capturing that information in standard annotations in the gene ontology (called CACAO!).
In 2022, I joined the Biology Department at Texas A&M University as an Accountability, Climate, Equity, & Scholarship (ACES) Faculty Fellow & Visiting Assistant Professor. The Ramsey lab is located in Biological Sciences Building East room 312. Our studies focus on how phage manipulate their host cells, especially the exit stage, and what impact that has on the surrounding environment. While doing our fun science we strive to support the professional growth of all trainees and lab members.